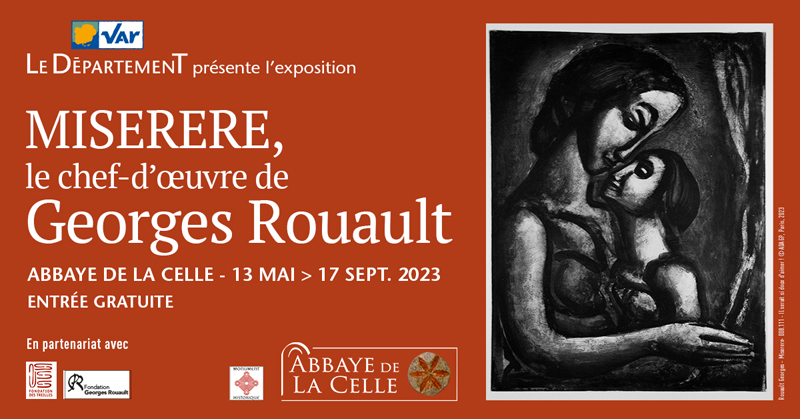 Exhibition: Miserere, the masterpiece of Georges Rouault
From May 13 to September 17, 2023
The abbey of La Celle hosts a set of 58 engravings of exceptional quality, forming the album known as Miserere, a masterpiece by the painter Georges Rouault (1871-1958) which was exhibited in the greatest museums of the world and contributed to its international fame. The deep blacks of each of these plates, the serious subjects that the artist has treated with a rarely equaled power and a deep humanity, could not find a better setting than those offered to him by the stone walls of the abbey.
Georges Rouault, and his contemporary Henri Matisse, frequented the famous studio of Gustave Moreau in his time, where the generation that gave birth to Fauvism was formed. Both critics and art historians, for convenience, classify it under this banner. The affirmation of expression through color, the forms outlined in black, the subjects chosen from among the most humble, prostitutes, clowns, have also made him considered as one of the figures of French expressionism. He was above all a deeply original artist, who followed his path, without worrying about fashions and currents, listening to his deepest convictions revealed by the work Miserere and which still today make Georges Rouault one of the most important representatives of sacred art of the 20th century.
This work occupied Georges Rouault for 10 years, from 1917 to 1927. Ambroise Vollard had undertaken to publish two albums: Miserere and Guerre. His accidental death in 1939 and the declaration of war suspended the project. It was not until 1948 that 58 plates including those planned for the War series were brought together under the title of Miserere.
The pages of the album presented at the Abbey of La Celle are kept, not far away, at the Fondation des Treilles, created by Anne Gruner Schlumberger and located in the Var towns of Tourtour and Flayosc. It is not open to the public, but in a spirit of sharing that was hers, she decided that the collection put together by its founder could be the subject of traveling exhibitions.
Artists' books, albums with prestigious signatures, such as that of Georges Rouault constitute the most secret and fragile part of this collection. They are, for conservation reasons, rarely exhibited. The Fondation des Treilles welcomed the project of this exhibition with the certainty that in these walls once built for silence, the work Miserere would find a marvelous space for dialogue.