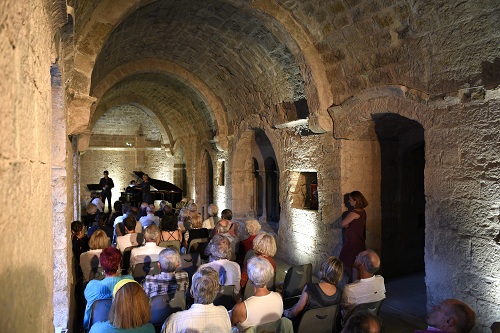 The Abbey of La Celle, property of the Department of Var, jewel of Provençal Romanesque art, with remarkable acoustics, is hosting musical events this summer.
Friday June 24, 2022 at 9 p.m. : Free concert by Barbara Luisi as part of the exhibition La rose et l'olivier on display until September 18, 2022.
Accompanied by pianist Yihang Qu and tenor Simon Edwards, Barbara Luisi invites the audience on a musical journey through the scent of roses and the rustle of trees. In the inner courtyard of the Abbey of La Celle, the subtle scent of a recently planted Marie Pavie rose bush exhales its scent and responds to the Bed of Roses, a work installed in the dormitory and the intoxicating melodies of its violin. The trio of artists will perform works by Boulanger, Fauré, Elgar, Britten, Schubert, Schumann, Poulenc, Massenet, as well as poems and lullabies by Thomas Moore, César Cui, Dorothy Lee...
Friday, July 1 at 9 p.m. at the Abbey of La Celle : 1930s Swing Evening - "Colors of yesteryear..." with the group Cheecky Swinger.
This group offers a swing repertoire from the 30s and revisits some more current variety songs in an interpretation of the style of the 30s/45s.
Duration: approximately 1 hour
Cast: Charlène FERNANDEZ (vocals), Olivier LABROT (trumpet), Olivier DEBOURREZ (trombone), Laurent BIGNET (banjo), Serge BAUDRY (sousaphone)